Specific instructions for some popular programs.
Creating a GEDCOM with PAF 5.2
PAF
Private Notes
PAF uses the ~ (tilde) as the first character on a Notes line to mark the note as Confidential.
The recommendation is to not export Confidential Notes, by un-checking the box in front of Confidential Notes as you can see in the images below. If you are using PAF, you may also want to define the ~ (tilde) as the Prefix for private notes in your Import Settings.
Export ANSI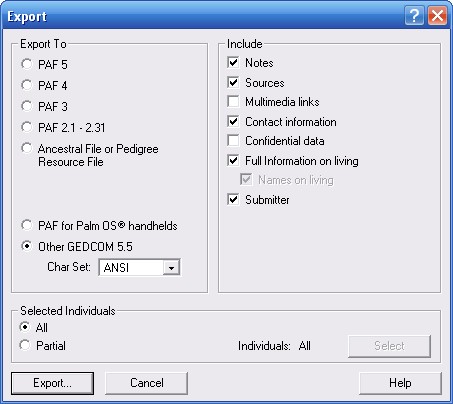 To export ANSI, you must
select Export to Other Ged com 5.5 and then
select ANSI in the charset pull down.
Creating a GEDCOM with Reunion
Step 1: Export a GEDCOM file in Reunion as shown below.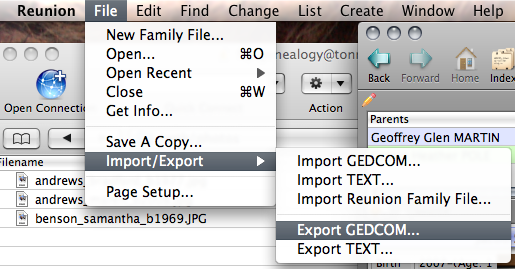 Step 2: Choose GEDCOM 5.5 and Windows as the options as is shown in the figure below. Save this file to your local hard drive.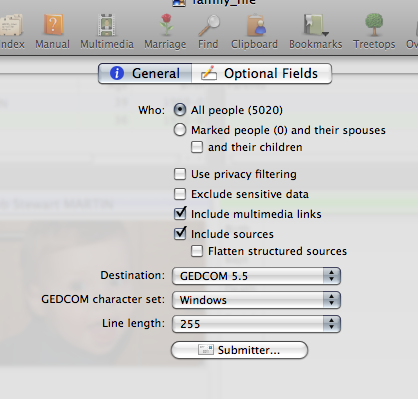 Step 3: Import the GEDCOM into the MacKay Project.
Caution: If you download your MacKay Project GEDCOM and import it into Reunion (perhaps to do some editing on your desktop), there is no option in Reunion to retain the GEDCOM's ID numbers. In fact, Reunion will renumber individuals and families, filling in gaps in the sequence. If you then export your amended GEDCOM from Reunion for import into MacKay Project you will lose media and other links for those people and families who have been re-numbered.
Creating a GEDCOM with Legacy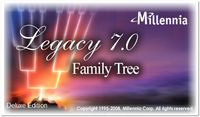 Legacy Web Site
Export Ged com
Simply choose Export To / GEDCOM File… from the File pull-down menu to display the GEDCOM Export window.




In the Product file for: choose GEDCOM 5.5 Only.

In the Character Set: ANSI.

Make sure the Records Selection box is set to the records you want to export.

If you want to exclude certain information from the GEDCOM, press the Customize button to view the Items to Include window.

You can also protect the privacy of living individuals by checking the Suppress details for Living people box.

When you are ready to produce the GEDCOM file, press START EXPORT.

Select the location where you'd like to save your file (make sure it's one you can easily remember.)
Contact Us

If you have any questions or comments about the information on this site, please contact us. We look forward to hearing from you.